POČASIE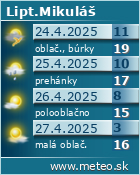 WEBKAMERY
Záhradky



Jasná - Lukova



Jasná - Biela



Chopok - Rotunda



Žiarce

Welcome to DEMANOVSKA VALLEY
The most visited locality of the Low Tatras is "Demanovska dolina", laying south from Liptovsky Mikulas, on the northern slopes of the mountains. Low Tatras are a huge system of mountains with a main ridge 82 km long and the highest peak are higher than 2000 m above sea.The most beautiful lowland of Low Tatras is 16 km long. It ranges from the main ridge between Dumbier 2043m , the peaks of Krupova hola 1927 m , Chopok 2024 m, Derese 2003 m, Polana 1889 m to the north from "Liptovska kotlina".Its protected on the sides by expressive ridges. The lowland is a national reservation sized 837 ha, where besides remarkable sceneric and estetic values the most valuable is Demanovsky kars.Vrbicke pleso (a lake) is another one of the beatiful sceneries in Demanovska dolina.
The ideal ski terrains, worldknown caves, a possibility of summer turistic, beautifull fauna and flora completed by good climatic conditions gave this lowland a suggestion for building of a center of the tourism, the town Demanovska Dolina, in the hights ranging from 700 to 2000 m above sea.
A long time,
this valley was know only to admires of cave beauties. Demänovské caves became to be known to the whole cultural life after being investigated and described by marking the places which are covered with ice and stalactite in the 18th and at the beginning of the 20th century. The second break-through in the history of this valley and today`s location Demanovska dolina was the Chopokdecision to build a funicular to a Chopok in 1936. Since that moment the vast majority of visitors has been represented by skiers and the rapid development of tourist activities initiated the building of Alpine winter sports center with international importance.
Jasná with the dominant of Chopok ( elevation 2024 meters ) is also a part of Demänovská dolina. The center provides more than 2000 beds in hotels of various categories. Other accomodation possibilities are in the neighbourhood of the center. Cabin funicular, 5 chair funicular, 17 ski-towns, 25 km of adjusted hills and skiing tracks and moreover, 30km of the recreational skiing grounds are placed at tourists` disposal.